DMXking LeDMX4 (5 & 12-24v)
An OEM Board for direct sACN/E1.31 and Art-Net to RGB/RGBW pixel strip/array control. No longer do you need sACN/Art-Net -> DMX512 -> Pixel driver. Eliminate the DMX512 conversion using our LeDMX4 PRO and go direct sACN/Art-Net -> Pixel. Compact and feature packed you'll find it easy to design into your applications with the ability to scale as big as you like whilst keeping everything synchronized. Designed and manufactured in New Zealand to the highest standards LeDMX4 PRO is a professional product you can rely on backed by our world renowned after sales support.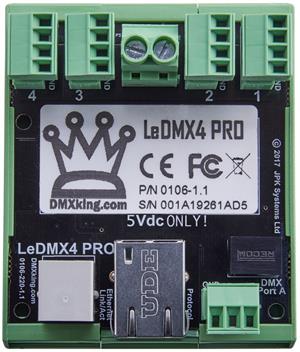 Compatible with: Windows, Mac OS X, Linux, iOS (iPhone/iPad), Android
Capabilities

4x independent pixel outputs each with 5A supply capability.
Max 4 universes per port (total 16 for pixel outputs)
Max pixels per port: 680 RGB, or 512 RGBW, or 340 16bit RGB pixels or 256 16bit RGBW.
Board capacity is 17 universes (16 for pixels, 1 for DMX512), max 2,720 RGB pixels
DMX512 OUT/IN port usable for pixel mapping source along with ArtNet/sACN.

Physical & Connectivity

PCB dimensions: 72.5 x 65.0 mm, OEM board for integration into your designs.
DIN rail mount, or wall mount possible with available accessory
Available as 5V or 12-24V models
Static IP or DHCP network addressing (factory default static IP 192.168.0.113)

Inputs

Art-Net broadcast, Art-Net II, 3 & 4 unicast.
sACN/E1.31 Multicast and sACN Unicast.
Universe Sync Art-Net, sACN and Madrix Post Sync.
Fully compatible with ALL software and hardware that supports Art-Net I, II, 3 & 4 and sACN/E1.31 protocols.
Fully compatible with lighting consoles capable of generating Art-Net or sACN protocol.
Use the DMX512 port to drive pixels (limit to one universe)

Additional Features

Selectable clock/data rate to suit long cables or fast output.
Automatic RGB / RGBW order correction and additional pixel re-mapping features.
Master Level control independent of incoming universe streams.
Flexible Full Mapping option for outputs permitting any start address and zig-zag corrections for RGB, RGB16, RGBW and RGBW16 pixel types.
Null pixel support for longer runs to first active pixel.
HTP Merging of 2 sources and sACN Priority for a highly flexible multi-source pixel mapping solution.
Configuration utility (Win/OSX). Windows version required for basic Art-Net output/input test functionality and to manage SD playback/record functionality.
Firmware updates can be performed by end user.
Supported operating systems: Any with Ethernet networking support. Windows, Mac, Linux, iOS, Android.

Recording & Playback

Accessory port (RJ12) for external show triggering and future add on devices.
Recording and playback to microSD card. See eDMX PRO Record / Playback manual.
Standalone show playback without computer or network connection.
Use ArtNet trigger commands in your own software to trigger record/playback
Records ArtNet or sACN
| | |
| --- | --- |
| User Manuals | |
| Configuration Software | |
| Technical Documentation | |
Pixel Types
APA101
APA102 *
APA104
APA106
DMX512-P
INK1002
INK1003
LPD6803
LPD8806
PL9823
P9813
SK6812
SK9822 *
SM16703
TLS3001
TM1814
TM1934
UCS1903/UCS1904
UCS2903/UCS2904
UCS2912
UCS8903
UCS8904
WS2801
WS2811
WS2812
WS2812B
WS2813
WS2814
WS2815
WS2822S
and many more compatible LED strips.
* Per pixel intensity control for APA102/SK9822 utilizing the 5bit current pre-regulator.
LeDMX Firmware Release Notes
Version
Description
2.2

Initial firmware release.

2.3

Split AP104 from WS281x for timing optimization.
Corrected timing issue with ports 1&2.

2.4

Relaxed Art-Net protocol version check to account for Arkaos byte order error.

2.6

ArtNet 4 support.
IGMP report fix.
DMX Port A usable for pixel output source and sync universe.
Snapshot Port A useable for pixel output.
Full Mapping mode enhancements.
Pixel output engine improvements.
HTP Merging for pixel outputs.

3.0*

Record playback added.
RDM enhancements.
Universe Sync.
IGMP report when universe change + unsolicited option.
DMX IN Single IP.

3.1

Maximum 4 universes mapped to each pixel output 680 RGB.
ArtNet 4 all pixel universes reported.
NodeReport messages.
External trigger port added.
RGBW support.
Additional pixel types.
Auto-universe usage based on pixel configuration.
ArtAddress configuration of pixel universes.
Zero pixel length issues eliminated.
Dynamic IGMP reporting based on current port configurations.

3.3

Record/playback enhancements.
Up/down show trigger limited to consecutive range.
Individual show scripts.
Tftp delete function.
Pixel output master level control.
APA102C Intensity+XXX 4ch mapping.
sACN multicast playback.
Fixed bug with DMX IN pixel control without network.
Blackout show255 defined.
UCS8903/UCS8904 16bit RGB/RGBW pixel support.

3.5

WS2822S/DMX512-P pixel support.
Master Level channel configurable.
External trigger Up behavior loops back to show001 when next is non-existent.
Playback groups of 10 shows option added for triggering multiple units independently from same trigger universe.

3.6

WS2822S/DMX512-P pixel support.
Master Level channel configurable.
External trigger Up behavior loops back to show001 when next is non-existent.
Playback groups of 10 shows option added for triggering multiple units independently from same trigger universe.

3.7

DMXworkshop excess ArtPoll bytes accepted.
Full frame DMX512 option DMX-IN & DMX-OUT.
Broadcast ArtNet playback over network.
ArtPollReply includes UID report.
ArtNet fail safe modes.
NTP time sync and time zone with DST.
DMX-IN & DMX-OUT re-mapping channel offset.
Timeout all sources for DMX-IN.
sACN CID fix for multiple DMX-IN ports on same universe.
sACN Universe Sync enhancements.
Recording from DMX-IN sources.
Default Gateway added to ArtIpProg.
Numerous Record/playback enhancements (see eDMX Recorder manual).
Alternate pixel mapping option.

3.8

ArtPollReply message excess byte trimmed.
Volume label report.
End of show playback timing for improved show looping.

3.9

Improved merge source handling at end of show playback for seamless looping with merge.
Master script final show entry now checks individual show script.
Added TM1814 and TLS3001 pixel types.

3.10

ArtPoll handling fix for Madrix.

3.12

Primary and alternate UDP port communication. Recorder triggers and diagnostics also run over alternate port. Enabled via Advanced menu item. Firmware listens for both ports all the time.
Load/save YAML configuration in utility and TFTP, also optionally loaded at boot time from SD card.
RDM functions when same universe configured on multiple ports.
RDM Discovery PortID corrected to standard. Long RDM messages PDL 230-231 bytes now work properly.
P9813 pixel type added.
ArtCommand for YML support.
Slight timing improvement for looped shows.
More aggressive NTP requests upon power up to handle slower bootup of internet gateways.
DMX-OUT channel offset improvements.