Compact OEM Board for sACN/E1.31 and Art-Net to DMX512 conversion. Supporting both DMX512 output and input individually configurable on each channel along with Art-Net and sACN protocols the eDMX4 MAX DIN is well suited to distributed permanent installations tucked away in small enclosures. Designed and manufactured in New Zealand to the highest standards.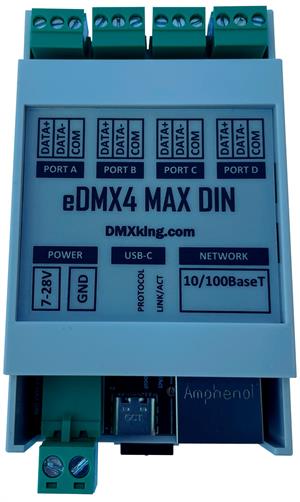 Compatible with: Windows, Mac OS X, Linux, iOS (iPhone/iPad), Android
Main Features

Wide input power range 7-28Vdc.
Static IP or DHCP network addressing.
OEM board for integration into your designs.
DIN rail and wall mount.
4x DMX512 Out or DMX512 In with E1.20 RDM support.
Merge 2 incoming Art-Net streams per output channel with both HTP and LTP options.
Merge Art-Net + DMX input -> DMX output(s).
Merge 2x DMX input -> DMX output(s).
sACN Priority takeover for multi-tier controller arrangements.
3 pin screw connectors.
Fully compatible with ALL software and hardware that supports Art-Net I, II, 3 & 4 and sACN protocols.
Fully compatible with lighting consoles capable of generating Art-Net or sACN protocol.
Universe Sync Art-Net, sACN and Madrix Post Sync.
Recording and playback to microSD card (not included). See eDMX PRO Record / Playback manual.
Standalone show playback without a computer or network connection.
Configuration utility (Win/OSX) with basic Art-Net output/input test functionality (Win only).
Firmware updates can be performed by an end user.
Supported operating systems: Any with Ethernet networking support. Windows, Mac, Linux, iOS, Android.
| | |
| --- | --- |
| User Manuals | |
| Configuration Software | |
eDMX MAX Firmware Release Notes
| Version | Description |
| --- | --- |
| 4.0 | Initial release. RDM support disabled. |
| 4.1 | Improved port LED intensity. Fixed startup hang with certain SD cards. Support for eDMX1 MAX. |
| 4.2 | DMX-IN recording issue fix. ArtNet subnet broadcast traffic issue fix – resolves problem with being unable to scan for (L)eDMX MAX units. |
| 4.3 | Initial release with USB DMX support. |
| 4.5 | Extensions to DMXking USB DMX protocol. Required update for USB DMX functionality. |
| 4.6 | Initial support for eDMX8 DIN MAX |